HOW MUCH DOES A MOBILE BILLBOARD COST?
Mobile billboards are a unique and effective way to promote your brand or message. Here is additional information to help you better understand the costs associated with mobile billboard advertising.
FACTORS THAT AFFECT MOBILE BILLBOARD TRUCK RATES
Mobile billboard rates depend on several factors, including:
Type of vehicle: The type of vehicle used will affect the cost. For example, a digital LED truck may cost more than vinyl banner mobile billboard.
Duration of the campaign

: The length of the advertising campaign can affect the cost. Longer campaigns tend to cost more than shorter ones.

Geographic location: The location can also affect the price. Advertising in a high-traffic area or in a major city may cost less than advertising in a hard to reach smaller town far from major hubs. We can reach anywhere and everywhere with our mobile billboards.

Size of the billboard

: The size of the mobile billboard can change the rates. Larger billboard trucks tend to cost more than smaller ones.
Mobile billboard rates can vary depending on the specific details of your advertising campaign. For the most precise pricing, please fill out the form.
How much does it cost to rent a mobile billboard truck or led truck?
The cost of your mobile billboard campaign will depend on if you choose a static or digital advertising truck, and will usually range from $800 – $2,400 per truck for a static image, and $1,200 – $3,600 per truck for a video / digital / LED truck.
What are the typical rates for standard mobile billboard truck campaigns?
Standard mobile billboard truck campaigns typically range from $2,000 to $10,000 per week depending on the amount of days selected.
How are rented mobile billboard trucks typically charged?
Rented mobile billboard trucks are usually charged by the hour, 8-hours is standard but we can offer additional hours as well.
What is the average cost per 1000 views for a mobile billboard truck?
The average cost is around $0.75 per 1000 views.
How much does it cost to design billboards for both sides of the mobile billboard truck?
Designing billboards for both sides usually costs between $500-$900.
MOBILE BILLBOARD COST - Instant Quote Form
What's included in the cost of a Mobile Billboard Truck campaign?
The cost of mobile billboard truck advertising with Billboard Express includes several components:
Vehicle rental: This covers the expense of renting the LED truck that is used for the billboard.

Mobile billboard truck cost: This includes the cost of designing and installing the billboard on the LED truck.

Mobile billboard truck advertising cost: This encompasses campaign management, which involves coordinating the advertising campaign, scheduling the routes, monitoring the progress, and making any necessary adjustments.

Operating expenses: This includes the cost of fuel, insurance, maintenance, and other expenses associated with operating both the LED truck and the billboard.
It is important to note that these costs can vary depending on the specific details of your campaign. We include GPS tracking in our rates, while others may charge extra for such features.
With Billboard Express, GPS tracking and monitoring are already included in the mobile billboard truck advertising cost. 
At Billboard Express, we prioritize transparency and guarantee that there are no hidden fees. The price you see is the price you pay.


---
The Value & Benefits of Mobile Billboard Truck Advertising
Determining the value of mobile billboard advertising requires consideration of various factors, including targeted audience, advertisement objectives, and budgetary allocation.
Several advantages of mobile billboard advertising, however, may justify its costs, which include:
High Visibility: Mobile billboards enable prompt dissemination of advertisements to a vast audience, thanks to their swift movements. They are, therefore, a suitable option for reaching a broad audience in a specific geographic location promptly.
Flexibility: Moving mobile billboards to different areas is effortless, affording advert placements to be targeted at specific events or locations.
Cost-Effectiveness: As opposed to traditional billboard advertising, mobile billboards offer a cost-efficient alternative, particularly for targeted geographic locations.
Distinctive Advertising: Mobile billboards provide an out-of-the-box approach to advertising, unlike traditional billboards or print ads, thus making it more likely to pique the audience's interest.


---
Looking to reach a specific demographic or geographic area with your advertising?
Look no further than our high-visibility mobile billboards! Here are just a few reasons why they're worth the investment:
Flexibility – Our mobile billboards can be easily moved to different locations, allowing you to target specific areas or events as needed.
Cost-effectiveness – Compared to traditional billboard advertising, our mobile billboards are a cost-effective option, especially if you're targeting a specific geographic area.
Unique advertising – Our mobile billboards provide a unique, attention-grabbing way to advertise, helping your message stand out from traditional billboard or print ads.
With our reasonable prices for LED trucks, you can reach your target audience without breaking the bank. Let us help you develop and implement a targeted advertising plan that utilizes our mobile billboard trucks to their fullest potential. Contact us for a mobile billboard rates today!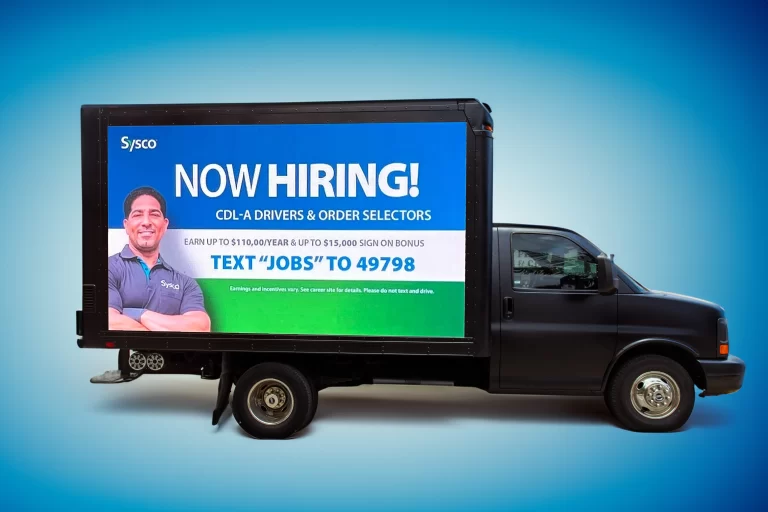 30 Years of Professional Service
Capture & Engage Your Audience
• Professional Customer Service
• Largest Fleet of Mobile Billboards
• Top Rated Mobile Digital Technology
• Built in GPS and WIFI Tracking
• Campaigns for Every Sized Budget
Serving the Entire United States!